Introduction
Fushimi Inari Taisha has a history of over 1300 years. In this post, I'll show you it in chronical order. 合掌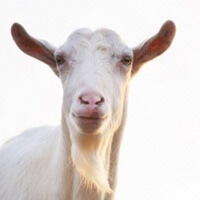 たけちよ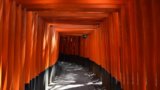 Fushimi Inari facts 3: Senbon Torii 伏見稲荷千本鳥居英語で説明
Senbon Torii is a name of two tunnels of Toriis located near Okusya Houhaijo in Fushimi Inari Taisha. In this post, I'll show you why it was founded. 合掌
Pre-Fushimi Inari era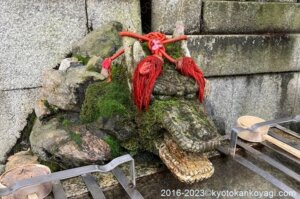 Fushimi Inari is located in the foot of Mt. Inari. The people lived there showed respect and gratitude for it because it gave them water, soil and so on. They provides us sources of food and agriculture. Their attitude is called the faith of Kannabi which was popular those days thorough the archipelago.
The faith usually leads people to the fatih of Ryuda Shin(龍蛇神), the deity of dragon and snake. Both of them are the deities of water.
This faith of the snake was fused with the faith of the dragon with the arrival of Onmyodo from China and developed into the fatih of Ryuda Shin(龍蛇神), the deity of dragon and snake. Water is importand for us. Without water, we can't live at all. In addition to it, our ancestors believed it got rid of evil things.
Fushimi Inari was established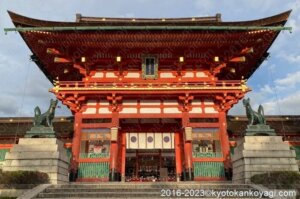 Fushimi Inari was established in 711.Yamashiro no Kuni Fudoki(『山背国風土記』), the report of the culture of ancient Kyoto tells us a story: Near the mountain, a man called Irogu Hatanokimi/Hata no Irogu lived. The rice cultivation made him a millionaire. He was so arrogant that he shot a rice cake with an arrow. The rice cake became a swan. She landed the peak of Mt Inari and the rice plants grew up there. Then a shrine called Inari (伊奈利) founded. Inari means that rice grows up. It is a shrine enshrines a deity of agriculture, especially rice cultivating.
The story reveals why Fushimi Inari does enshrines Uka no Mittama no Ohkami (宇迦之御魂大神). Uka (宇迦) means foods, especially grains. The diet of Japan is rice.
In 8th century, Fushimi Inari also enshrined two deities: Satahiko no Ohkami (佐田彦大神) and Ohmiya no Me no Ohkami (大宮能売大神).
Satahiko no Kami guided the ancestor of emperor descended to Japan from Tkamagahara located up above the world. Ohmiya no Me no Ohkami is a guardianne of the Imperial court.
The Chinsyu Sha of Toji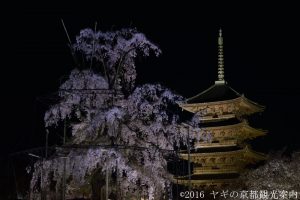 In the 9th century, Fushimi Inari became a Chinsu sha of Toji temple.Those days, Shinto, or the indigenous belief in nature was fused with Buddhism in Shinbutsu Shugo (神仏習合), the syncretism of Shinto and Buddhism. Chinshu sha is a kind of a guardian Shito shrine for a Buddhist temple.
In 826. the construction of the pagoda of Toji was started. Then, all of a sudden, emperor Junna became ill, The divination told that the cause was the curse of Mt. Inari. Some of the lumbers for the construction belonged to the mountain. The imperial court gave Inari sha (Fushimi Inari) Ju Goi Ge (従五位下), a low status to calm the curse down.
In the 10th centrury, the Imperial court gave Fushimi Inari Sho ichi (生一位), the highest status of Shinto shrine and became one of the most popular Shito shrine among Kyotoites. In The Pillow Book (枕草子), an observation book written in Seihonagon, the author described many people visited there in Hatsu Uma Sai festival.
The middle ages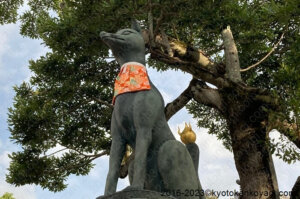 Those days, Fushimi Inari enshrined two more deities: Tanaka no Ohkami (田中大神) and Si no Ohkami (四大神). Tanaka no Ohkami is a deity of rice paddy and Si no Ohkami is a deity of four seasons. They reveals that the deities of Fushimi Inari are considered as the deities for agriculture.
In addition to it, Shinbutsu Shugo was in progress. Uka no Mitama no Ohkami was fused with Dakini Ten (荼枳尼天). Dakini Ten is originally a deity of land in ancient India. She represents fertility and maternity. Today, we can find many statues of Fox in Fushimi Inari. They has something to do with Dakini Ten.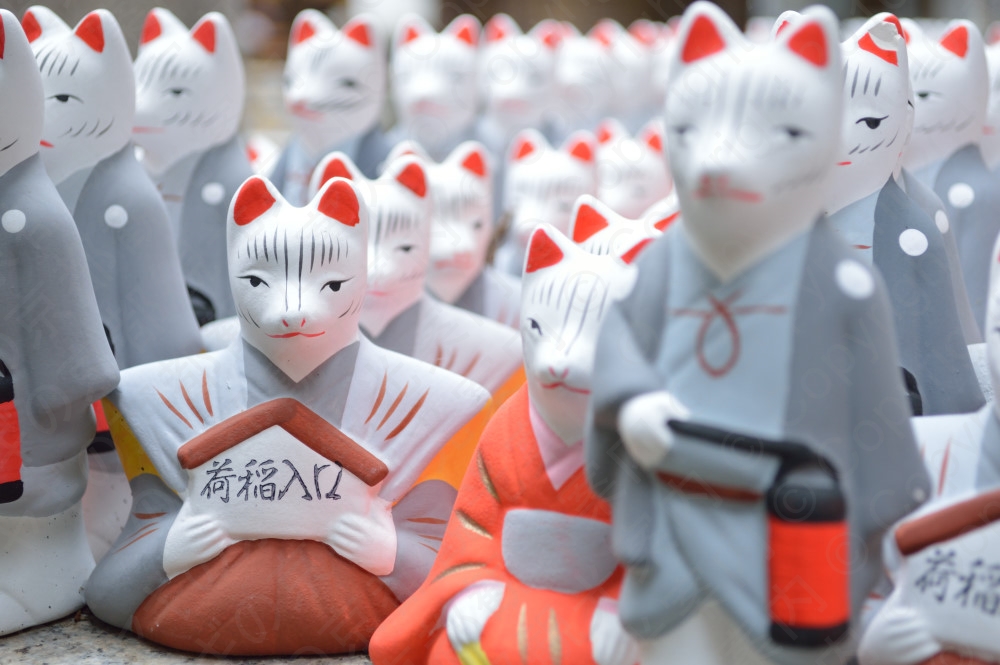 Fushimi Inari facts 2: Why foxes? 伏見稲荷のキツネさん英語で説明
Foxes in Fushimi Inari Taisha are messengers of the deity enshrined there. In this post, I'll show you why they are there. 合掌
The civil war
A conflict on a succession of the Ashikaga Shogunate lead the largest civil war in Japan. The Eastern Army and the Western Army made Kyoto their battle field. The war lasted 10 years and Kyoto was devastated completely.
In Fushimi Inari,  two clans of priests which governed joined the Armies each other and a sever strife happened.
As other Shinto shrines temples those days, Fushimi Inari started Kannjin (勧進).
Kanjin is a way of collecting construction or renovation cost of shrines and temples. Kanjin So (勧進層), monks went to many places to talked about a history and Goriyaku, fortunes deities give to us, of the shrine or temple they belonged for and gather money. Offering money was a religious activity.
Fushimi Inari was reconstructed due to heir activities.
Edo period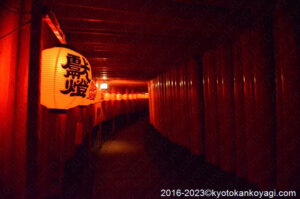 Thanks to the Kanjin Sos, Oinari-san, a.k.a. Uka no Mittama no Ohkami, was one of the most popular deities. Her Goriyaku for fertility in agriculture was developed into prosperity in business and the bond between Foxes and her became concrete.  Inari shrines were founded in many places, especially Edo (former name of Tokyo). Here is an old saying: "The popular things in Edo. Iseya (Trade name of merchants), Inari (shrines), and dog's poops."
And Torii donations were in rapid progress in this period.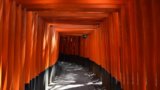 Fushimi Inari facts 3: Senbon Torii 伏見稲荷千本鳥居英語で説明
Senbon Torii is a name of two tunnels of Toriis located near Okusya Houhaijo in Fushimi Inari Taisha. In this post, I'll show you why it was founded. 合掌
The end of Shinbutsu Shugo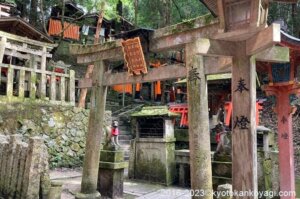 The Meiji restoration lead the government decided to separate the co-existence of Shinto and Buddhism. In 1868, they were separated in terms of law though it sounds strange. Shinto shrines and Buddhist temples were forced to choose the way the would take. Fushimi Inari decided to be a Shinto shrine but the law did't invade the belief people had. They made Otsukas, the small shrines, without permissions of the government or Fushimi Inari. These Otsukas enshrines deities not familiar to us. People asked a medium a deity for them and she chose a proper one. Even today, we can see thousands of Otsukas.
Today
Fushimi Inari is famous and one of the most popular destination for tourists, especially foreign ones. About ten million people visit there for a year.
About Fushimi Inari Taisha
Access to Fushmi Inari Taisha
 JR Line
Get off train at Inari station. Local line only.
Keihan Line
Get off train at Fushimi Inari station.  Express, Local and Sub-express line only.