What does "Matsuri" mean?
Our ancestors respected power beyond their understanding. For example, the sun gave them light, warmth, and fertile harvest, and so on. They thought the power of "Shinrei (神霊)" gave them these things.
"Matsuri" is a noun form of a verb "Matsuru." The word "Matsuru" means to worship "Shinrei/ Mitama (神霊)", the source of the enormous power. We entertain it and ask her to make wishes come true, showing our respect for it.
This is what "Matsuri" means. We have many Matsuri every day through the archipelago and they are held for this aim.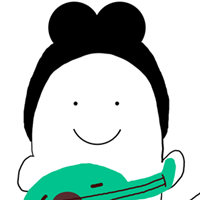 いちきしま ひめ
In a nutshell, Matsuri is a deed to make Shinrei entertained and ask for our prosperity. Without this knowledge, we cannot understand Gion matsuri at all, O.K.?
Gion matsuri began as Goryo-e
It is some controversy when Gion matsuri began but Gionsya Honen Roku(『祇園社本縁録』) , the document of Yasaka shrine, claims it started in 869 as Gion Goryo-e (祇園御霊会).
Goryo-e  is a ritual to entertain Shinrei/ Mitama and send it out to a place far from us.
Generally speaking, in ancient times people believed that Ekishin (疫神), a deity came to the place where they lived in, caused malady and natural disasters.
And it is assumed that politically ousted persons and those who died in despair became Onryo (怨霊). Most of them deceased in far out places from Kyoto, the ancient capital of Japan. Kyotoites believed that they cause malady and natural disasters like Ekishin.
Both Ekishin and Onryo are kinds of Shinrei/ Mitama. The ancient Kyotoites believed that they came from outside of Kyoto and caused maladies and disasters.
The oldest description of Goryo-e is found in Nihon Sandai Jitsuroku(『日本三代実録』), a history book compiled in Heian period (794-1192). It says that a Goryo-e took place at Shinsenen, a private garden for emperor, on 5th of May, 863.
On the day, the gates of the garden was opened to let Kyotoites come in. Buddhist monks read out the Heart-Sutra to calm down Shinrei/ Mitama, the souls of Emperor Sudo (he is the most famous ousted emperor) and other persons, and people entertained them with music and dance performance.
In this Goryo-e, the participants entertained Shinrei but it is not sure whether they had them go to other place or not.
On the other hand, as described in Nihon Ryakuki, (『日本紀略』), in 994, Goryo-e took place in Mt. Funaoka and Shinrei was put into a portable shrine and paritcipants set it on a river to let it go to Namba sea (I suppose it is Osaka bay).
As described in these examples above, at least in the 10th century, Goryo-e was established as a ritual in which Shinrei/ Mitama was entertained and sent away.
As time goes by, Goryo-e gave birth to another role: Ancient people started to believe that to worship the Shinrei/ Mitama for the purpose of saving people from bad luck with its enormous power.
Gion Goryo-e, the origin of Gion matsuri
In 869, in Kyoto, many people suffered smallpox, dysentery, and other epidemics because ill-prepared draining of wasted water and excrement. They mixed together and caused maladies with hot and damp whether. In addition to it, the Kamo river would be in flood in summer. The flooded river brought the maladies all through the city. Further more, our country saw natural disasters like earthquake and tsunami and suffered huge expansion of maladies outside of Kyoto.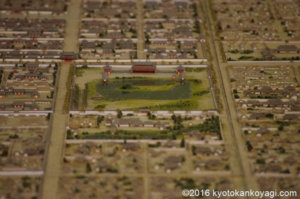 To calm down Shinrei to save the country, the imperial court gave Urabeno-Hiramaro (卜部日良麻呂), the priest of Gion-sya, an order to hold Goryo-e at Shinsen-en (神泉苑), the largest pond in ancient Kyoto. (The picture above.). Gion-sya is a former name of Yasaka shrine. Yasaka shrine is a Shinto shrine today but it used to be a Buddhist temple called "Gion-sya", or "Gion Kanjinin."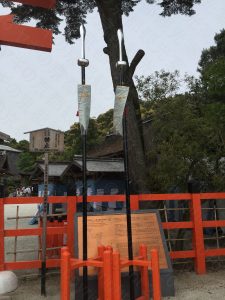 Urabeno-Hiramaro put the spirit of Gozu-tenno, the Buddhist Deity, into one of three portable shrines and sent them from Gion-sya to Shinsen-en and placed 66 hokos (矛) there . His aim was to put Onryo/Ekishin together and have them descended to the hokos and ask Gozu-tenno to get rid of them.
We don't have exact idea of their appearance and role but I suppose they looked like these hoko in the picture above and had a role stated above.
This ritual is called Gion-goryo-e, the origin of Gion matsuri. In the begging, the Goryo-e was held when epidemics expanded, and became annual event in 970. Since then, the festival was carried on for 1000 years despite of some interruption and 2019, the 1st year of Reiwa, marks its 1150th anniversary.
Gozutenno and the aim of Goryo-e and Gion matsuri
Gozutenno is a Buddhist Deity and Ekishin, a kind of Shinrei. In terms of Shinto-Buddhist fusion in Japan, he was the same as Susanoo no mikoto, the Shinto Deity.
Once upon a time, Gozutenno asked for a bed to Kotan Shorai on his odyssey. He denied it though he was a prosperous man. On the other hand, his brother Somin Shorai accept him though he suffered in poverty.
A few years later, Gozutenno eliminated Kotan Shorai and his descendants.
On the other hand, to a daughter of Somin, he revealed that he was Susanoo no mikoto. He asked her to wear Chinowa to let him know the wearer was a descendant of Somin Shorai.
The story show us the following facts:
1) Gozutenno is a Deity came from some far out place (Buddhism brought Japan from India by way of China.). He has an enormous power enogh to have Kotan Shorai and his descendants eliminated.
In a nutshell, he causes something bad to us with his power.
2) On the other hand, he saves descendants of Somin Shorai who treat him whole-heartedly.
Briefly, he saves us if we were kind to him.
These ideas go along with the aim of Goryo-e: To worship the Shinrei for the purpose of saving people from bad luck with its enormous power.
In its 1150 years of history, Gion matsuri has changed in many ways but its aim still remains all the same: The Deities of Yasaka shrine, including Susanoo no mikoto(He was fused with Gozutenno), stay in the area of ancient Kyoto city as Shinrei. People entertain them with beautifully ornamented Yamaboko floats and Ohayashi music and ask them put down the evil spirits, the cause of malady, Yamaboko floats gathered.