Autumn leaves in Tenjuan garden
Syoin, a study of Zen temple 書院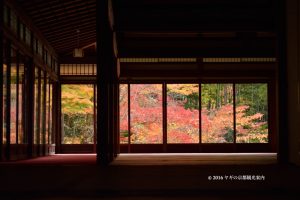 Zen temple usually has a study called Shoin. At Tenjuan, we cannot enter it in daytime but can have a good view of a garden belongs to it from the entrance.
Take advantage of pillars as flame and enjoy it as though you saw a painting.
With a cell-phone camera, you cannot take beautiful photos of it. Do not go to Tenjuan without camera.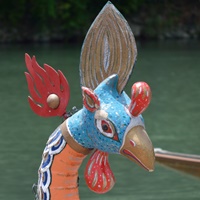 げきすせん
Zen rock garden 本堂前庭園
Overview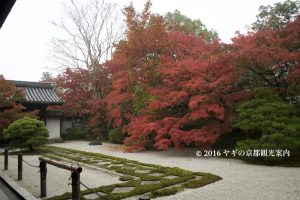 After Shoin, we head for Zen rock garden. It belongs to the main hall and you can admire it sitting on the terrace as long as you want. Tenjuan temple was renovated many times but the passage cosits of step stones enclosed by moss is the debris of the day of its foundation in the 14th century.
The garden has many exquisitely trimmed pine trees and amazing maple trees. In fall, we have 3 best times to adore it.
 Around 10th November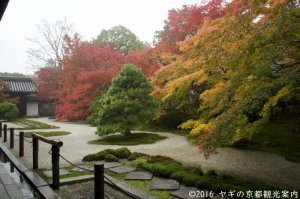 In this period, the maple leaves in the garden seem as if they were gradually turned their colors in front of us.
People always rush into shrines and temples when autumn leaves are in full bloom. They never know they miss one of the most amazing moment.
 Around 15th November
In this period, most of the maple leaves in the garden is in full bloom. As you see, the red autumn leaves in Tenjuan is very warm and tender. This is a peculiar thing in Tenjuan garden. We never expect such impression in any other gardens. Some of them are on the white pebbles. Japanese people love to enjoy autumn leaves on ground because fallen leaves reveal they are in the midst of the season and the nature.
 Around 20th November
In the period, the maple trees in front of the gate is in bloom though the other trees in the garden is going away.
With plenty of time, it is recommended to go to Tenjuan 3 times in fall.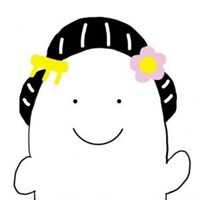 やぎももさん
Mid-November is the most recommended!
Stroll garden 書院前庭園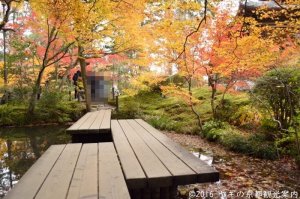 We have another garden in Tenjuan: a stroll garden belongs to Shoin. It is the garden we saw at the entrance of Shoin. Stroll garden has at least one pond and visitors enjoy it strolling around the pond. Tenjuan has two ponds. After the zen garden, we pass the first one on Yatsu-hashi bridge. It consists of many boards and is traditional bridge in Japanese garden. Today, a few gardens have it.
After Yatsu-hashi, we face the main pond. Around it, we can admire pale leaves and their reflection on the pond. They are in typical "Higashiyama-color."(I named it. The autumn leaves in Higashiyama is so pale.)
Take a close inspection of red leaves. This is "warm and tender red."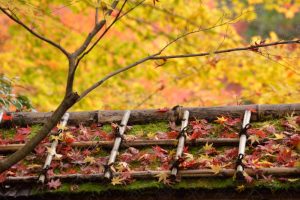 On the other hand, yellow leaves are so bright.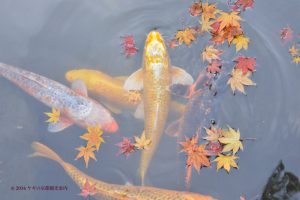 This is may favorite way to enjoy the pond: Autumn leaves with carps.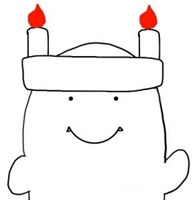 ヒヒヒ
The stroll garden is in bloom in mid November as same as the   zen garden.
The night illumination in Tenjuan
Shoin and its garden 書院と書院前庭園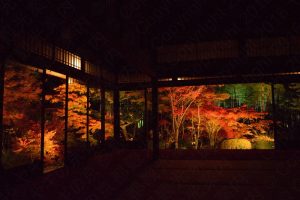 On the contrary to daytime, we can enter the Shoin!
At night, we can enter the Shoin and the main hall. On the other hand, we cannot be in the gardens.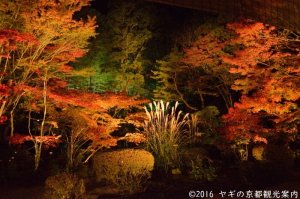 How beautiful!  At Tenjuan, maple trees illuminated in dim light. Behind the trees, we can see bamboos. Some temples has bamboo trees illuminated but we cannot see them and maple trees at the same time. In Tenjuan, our dreams come true.
The Zen garden 天授庵本堂前庭園
In Zen garden, maple trees are illuminated so warm.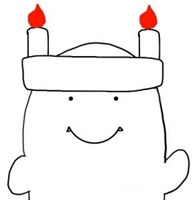 ヒヒヒ
But it is SO COLD in night! Prepare for it!
Dates and opening hours
Dates: From November 15th to November 30th
Opening hours: 17:30~20:45
How to stroll in the gardens?
Check the video. Sorry, not in fall but in amazing snow!
A time to visit Tenjuan
As I indicated before, we have 3 best times to visit Tenjuan temple; around 10th, 15th, and 20th November. It must be hard to go there 3 times but if you wanted to enjoy the autumn leaves in Tenjuan wholeheartedly, it is recommended to go there 3 times.
If you didn't have enough time to spare, you would be there in mid-November.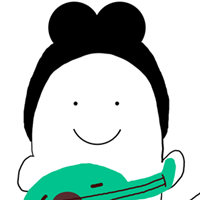 いちきしま ひめ
It is hard to tell when maple leaves are in full bloom. Be sure the dates indicated in this article are examples, O.K.?
The recommended Autumn leaves sites near Tenjuan
Tenjuan is a sub-temple of Nanzenji temple and it would be better to enjoy the autumn colors there.
In five minutes walk, we can reach Eikando temple, the most popular site for maple trees in Kyoto.
In addtion to it, we can get to Konkai Komyoji and Sinyodo. They are underrated places to admire autumn leaves. We can find so bright red leaves.
If you wanted to adore pale colors, it is recommended to go Enkoji temple.
Check the articles and videos!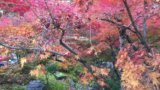 Top 10 popular Autumn leaves spots in Kyoto 2023
As a forecast of the autumn leaves in Kyoto 2023, Kyoto Goat choose top 10 popular sites of 57 shrines and temples.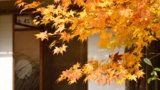 Top 10 underrated Autumn Leaves spot in Kyoto 2023
As a forcast of the autumn leaves in Kyoto 2023, Kyoto Goat choose top 10 underrated sites of 57 shrines and temples.
A short history of Tenjuan temple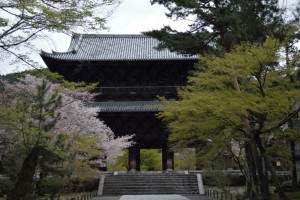 Tenjuan is a sub-temple and Kaisantoh(開山塔) of Nanzenji temple. Kaisantoh is a pagoda of a monk who founded a Buddhist temple. In the 14th century, emperor Kogon (光厳上皇) asked Daimyokokushi (大明国師), a Buddhist monk, to found Nanzenji temple. It is the first Buddhist temple established by emperor's request.
About Tenjuan temple
Name  Zuiho-zan Tenjuan 瑞龍山天授庵
Address  Nanzenji Fukuchi cho, Sakyo ward, Kyoto city, 〒606-8435
Phon no. 075-771-0744
Website  Not available
Opening hours 8:40~17:00
Entrance fee 500 yen
Adult and University students 400 yen High school students 300 yen
Junior high and elementary school students 200 yen
Time required 30 minutes~
Crowded?・・・★★★★☆ 4 of 5
How to get to Tenjuan temple
About 10 minutes walk form Kyoto city subway Keage station.
More info;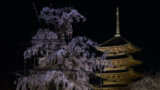 404 NOT FOUND | ヤギの京都観光案内/KYOTO GOAT BLOG
ヤギが皆様の知らない京都をご案内/ THE MOST FASCINATING KYOTO, EVAAH!