概観
Jishu jinja shrine is famous for its Goen for love seekers.
Goen is a tie/bond between something of someone. Jishu jinja shrine gives us extraordinary Goen of love.
"Love rocks" tells us how our love goes.
Jishu jinja shrine is lots of sub-shrines which also give us Goen of love.
Closed by December 2024 due to renovation.
The Main Hall: Okuninushi no Mikoto 御本殿 大国主命
Okuninushi no Mikoto 大国主命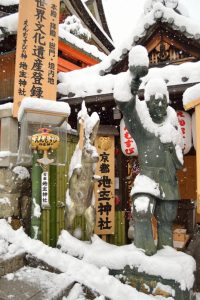 Jishu jinja shrine enshrines many Deities who bring us Goen, Okuninushi no Mikoto in the main hall is the most important one. Every single Japanese people see him as a Deity of Goen.
The say that: Every October (in ancient Japanese lunar calendar), all the Japanese Deities gather at Izumo Taisha, enshrines Okuninushi no Mikoto, to attend a meeting. The host is Okuninushi and attendees gives female and male persons all around Japan Goen.
This is a popular story and Okuninushi no Mikoto is known as a Deity of Enmusubi.
Due to his role, he married six Deities and had 180/181 children.
Rabbit ウサギさん
As the picuture above, Okuninushi is always with a rabbit because he save him and he also gives us Goen.
About the rabbit, we have some story in Japanese mythology:
Okuninushi had many brothers. One day, they decided to see Yasogami, a beautiful female Deity. In line, they headed for where she was. The last one of the line was Okuninushi no Mikoto.
On the way to her, in Keta beach, his brothers found a rabbit with his skin peeled off. They advised him, "Bath yourself in the sea and climb up a mountain. The sun and wind will help you to recover your skin and fur." and went back to the trip.
He did what they said only to suffer in a great pain. Then, Okuninushi  no Mikoto find him. He was not with his brothers. He couldn't follow them due to a huge bag contains the belongings of his brothers. They did't like him and forced him to have it.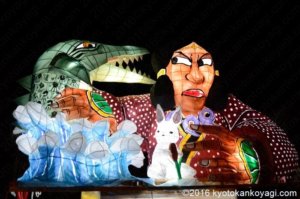 He asked the rabbit why he was crying. He answered, "I wanted to go to Keta beach from Oki island across the sea but I have no way to go there. So, I tricked sharks. I asked them to make sure whether my clan is larger than theirs or not. I said to them to line up to Keta to be counted. I hopped on them and nearly reached Keta, I revealed my intention to use them as a bridge. On hearing it, they ripped off my fur. I was suffered from pain, Yasogami found me and said to bathe myself. Their advice gave me greater pain."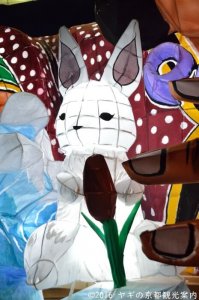 Okuninushi no Mikoto advised, "Go to a mouth of a river and wash yourself. Put many Gama (the plant the bunny has) on a ground as far as possible. And roll around on them. The pollen would relieve your pain and make your fur and skin recovered."
The rabbit did what he said and find himself restored.
The rabbit said to Okuninushi  no Mikoto, "Your brothers won't get Yagami hime. YOU MARRY HER."
As he said, Yagamihime declined their proposal and told them that she would marry Okuninushi no Mikoto.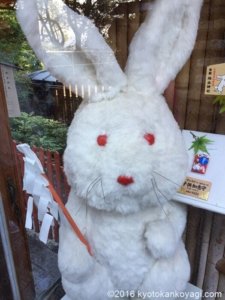 Now, he is worshiped as a Deity of Goen.
Love rocks 恋占いの石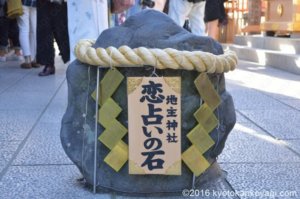 In Jishu shrine, there are two stones called "Love rocks." These rocks would be used in primitive rituals in ancient times.
Today, they tell us how our love will go. We can find them in front of the main hall. The distance between them is about 33′. We walk from one stone to the other with our eyes closed. If we reached with no failure, we would find ourselves in great love soon.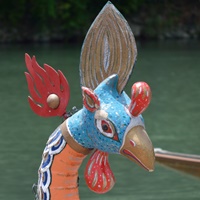 げきすせん
Yesterday, a high school girl tried to foresee her destiny with the help of her friend.  She held her arm! Is that right?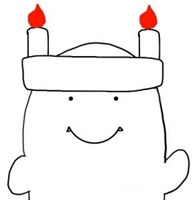 七里ヶ浜親方
OF COURSE! No one banned someone's help. And there are lots of people near the stones. I'm sure you will fell on the ground if you walk with your eyes closed.
Sub-shrine: Haraedo no Ohkami 祓戸大神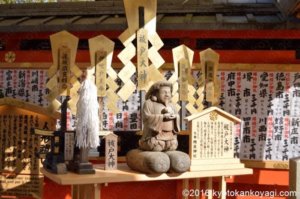 In front of the main hall, you found a small statue of Haraedo no Ohkami. He is a Deity who get rid of anything evil.
Prior to Shinto ritual, priest usually read out "Harae Kotoba." Harae Kotoba is a kind of poem to get evil things away and purify priest and participant of ritual. We find him in the poem.
The statue has a crystal globe. We touch it and he removes evilness of us.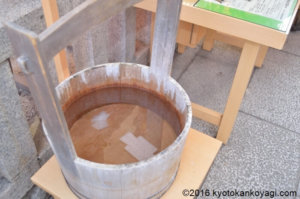 Next to the table the statue is on, we find a bucket. The pieces of paper are Hitogata.
Hitogata is a human-shaped piece of paper which takes evil things away on behalf of us.
See the video. Around 2:55, the lady rub herself with wooden Hitogata and blew her breath to it. It is a typical way we take when we use Hitogata.
When we use Hitogata of Jishu shrine, we simply blow our breath three times to it and put it on the bucket.