Breaking 2022: 2022年最新情報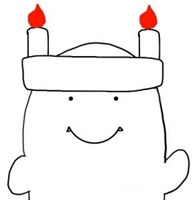 七里ヶ浜親方
Lit on 12/31 around 19 p.m.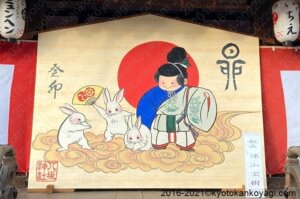 Now Yasaka Jinja shrine is ready for Hatsumode. At Buden, we find a huge Ema of the next year.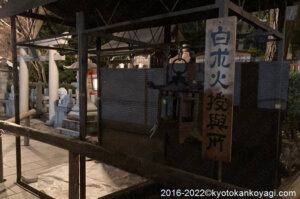 There are 3 Okera Toro lantern places. In front of Noh Butai stage, Daijingu, and Jissha.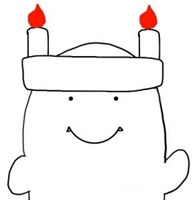 七里ヶ浜親方
In ancient times, Tsuinashiki took place on new year's eve. Today, Dainanogi in February tells us what is was.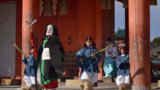 Setsubun 2023: Dinanogi at Heian Jigu shrine 大難の儀と節分英語で説明
Dainanogi is a Setsubun ritual presented at Heian Jingu shrine in the same form as it was took place in Heian period. In that period, people believed the ending of each season caused evil spirit which brought them illness and misfortune.
When Okerabi is lit?
Usually, Okerabi is lit around 19:00. There are 3 Okerabi place: In front of Noh Butai stage (Blue alien in the map), Daijingu (Red alien), and Jissha (Vermillion alien).
Last year, Okerabi was kept burned around 5:00 in the next morning.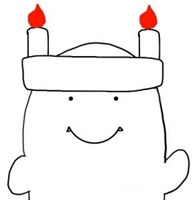 七里ヶ浜親方
This year, I can't guarantee.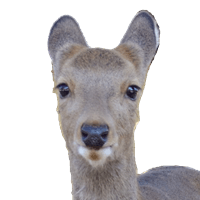 シカさん
There usually are persons with many ropes. (The person in the red outfit in the photo)  They give us a rope for 700 JPY.
There also are buckets. Put out the fire of the rope.
Traffic regulation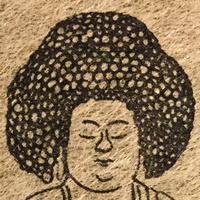 アフロさん
From 23:00 on the new year's eve to the 4:00 in the next morning, the roads in red is for pedestrians only.
And buses No. 201, 203, and 207 don't stops at Shijokeihan mae bus stop and Gion bus stop. Shijo Kawaramachi  bus stop is available.
What is Okera mairi? おけら詣り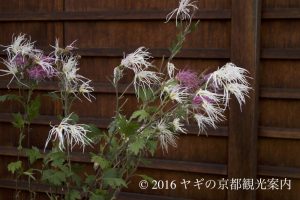 The schedule indicated in this post may differ due to COVID-19
Okera is a name of plant. It looks like a flower in the picture above. On December 31st, we can find many lanterns at Yasaka shrine. We set the fire on a rope at the lantern.  We keep it burning to our homes and light candles on Kamidana (Small Shinto alter in home) and make Zoni (Soup with rice cake) with it to pray for our health in the preceding year. This is Okera mairi.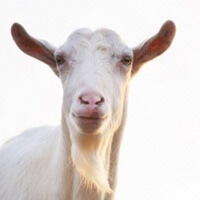 たけちよ
Now let us make a small inspection of it.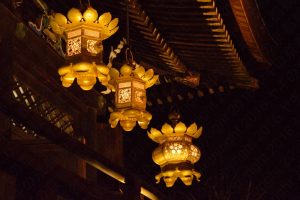 At 5:00 a.m. on December 28th, Sankasiki (鑽火式) takes place in Yasaka shrine. In the main hall, priests make fire with fire plow. It is as peculiar way to make fire for Shinto ritual. The fire is called Gosinbi (御神火). They light a lantern with it. It is kept burning for 365 days for rituals held in Yasaka shrine. (As charcoal, I suppose. I only caught a glimpse of it. The lantern looked like the ones in the photo above.)
For example, huge torches we can see at Gion matsuri festival is lit with the fire preserved as charcoal in the box indicated in the allow. It is lit by so sacred fire that it can cleanse and purify the road where Mikoshis pass.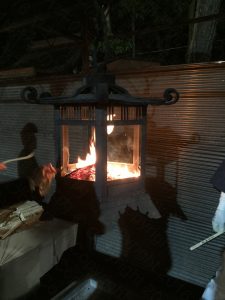 At 7:00 p.m. on 31th December, Joya sai (除夜祭), the last ritual of the year is completed, Okera lanterns (See the photo above.) are lit with Goshinbi. The fire in the Okera toro lantern is called Okerabi (おけら火/をけら火). People put Okera gi (おけら木/をけら木) into the lanterns. Okeragi is a kind of Gomagi (護摩木). Gomagi is a small piece of wood used in Shinto and Buddhist ritual. We write our wish down on it and put it into fire to make it come true. You can have Okeragi for 200 yen.
At Yasaka shrine, we can find persons with many ropes. We bought the rope for 700 yen and set the fire on it with Okerabi. We go back to our home swinging the rope to keep it burnt.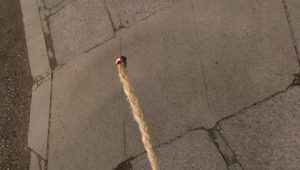 The rope is special one for Okera Mairi. Usually, Japanese rope is made of straw but the rope for Okera mairi is made of slivered bamboo with small pieces of flint stone to keep fire burnt.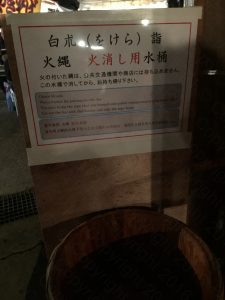 You go back to your home on bus? Don't worry. There are buckets for you!!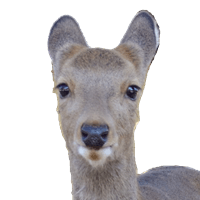 シカさん
Sake of Okera をけら酒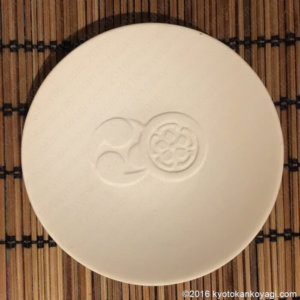 We used to enjoy Sake of Okera. It does good to your health.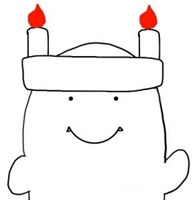 七里ヶ浜親方
Now it is abolished due to some reasons.
Okeragi おけら木の書き方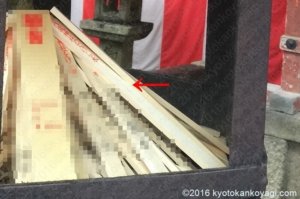 Okeragi is a piece of wood. We write down our wishes, our name and our age on it and put it on the Okera Toro.
How to get to Yasaka shrine? 八坂神社 おけら詣りのアクセス
General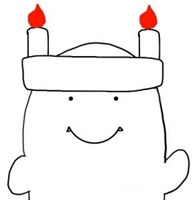 七里ヶ浜親方
Buses are so crowded. Take trains. Keihan Gion Shijo sta. and Hankyu Kyoto Kawara Machi sta. are available.
Kyoto city bus 市バス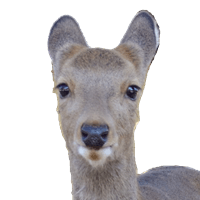 シカさん
On holiday schedules. One-day passes are expired at 0:00.
Keihan railways 京阪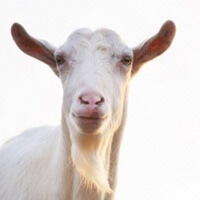 たけちよ
Trains run through the night.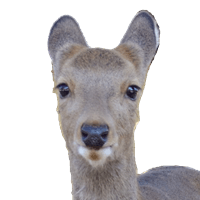 シカさん
You can visit Fushimi Inari after Okera Mairi.
Hankyu railways 阪急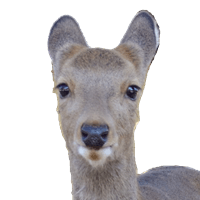 シカさん
About Yasaka shrine 八坂神社基本情報