Breaking 2023
5/12 Mikage Matsuri
Mikage Matsuri took place and the priests brought the spirit of the deity to Shimogamo
shrine.
What is Mikage matsuri festival? 御蔭祭?
The oldest parade for Shinto Deity
Mikage matsuri festival means important rituals held prior to Aoi matsuri festival.
The most important ritual is Miare shinji held on the 12th May at Mikage shrine. On the very day, the Deity of Shimogamo shrine is born there. Priests put him on a Shinme horse's (神馬。A horse dedicated to a Snito Deity.) back and parade to Shimogamo shrine. The parade is called Shikou-retsu (神幸列). Shinko-retsu is a column to bring Shito Deity to some place.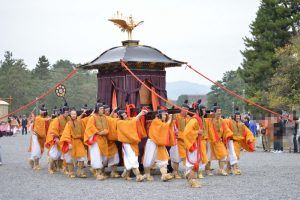 We can find Shinko-retsu in many matsuri festivals Shinto shrines hold. For example, priests put the Deity of Heian Jingu shrine into a litter and bring him to Kyoto Imperial palace in the Shinko-retsu of Jidai matsuri festival.
Among many Shinko-retsu, that of Mikage matsuri festival is the oldest one. Its history dates back to around 581 A.C., in the rein of the emperor Suizei, the 2nd emperor of Japan (The emperor Akihito is 125th emperor and his descendant).
The parade departs Mikage shrine and heads for Shimogamo shrine by way of Kamohani shrine.
From top to bottom, the torii gates in the map indicate Mikage shrine, Kamohani shrine and Shimogamo shrine.
Why is new Deity born every single year?
Sometimes, Shinto Deity has two aspects like yin and yang: Tender and rough.
The tender aspects is called "Nigi mitama (和魂)". It gives us anything good like harvest. On the other hand, the evil aspects called "Aramitama (荒魂)" gives us anything bad like disasters. We put these Nigi mitama and Aramitama together and have a supreme state of Deity to prepare for important ritual like Aoi matsuri.
Let me show you an example. The boy on his steed is "Kuze-kamagata chigo (久世駒形稚児)" in Gion matsuri festival. The Aramitama of Susanoo no mikoto, the Deity of Yasaka shrine is in the horse neck Kuze-komagata chigo holds in the chest. In the mail hall, the Nigi mitama and Ara mitama of Susanoo no mikoto come together.
In Aoi matsuri, aramitama of the Deity of shimogamo shrine is born at Mikage shrine and Nigimitama waits for it at Shimogamo shrine.
Itinerary for Mikage matsuri festival 作戦
The column of Mikage matsuri departs Shimogamo shrine for Mikage shrine and comes back to Shimogamo shrine by way of Kamo hani shrine. I'll show you an itinerary to attend the rituals in these 3 places. You can see all of them.
Kanpai no gi at Shimogamo shrine 勧盃の儀
9:00 a.m. at Shimogamo shrine
At a square field near Mitarashi gawa stream in Shimogamo shrine, priests hold Jyuge shinji ritual. It is a ritual of purification. I suspect priest purify themselves in it (There is scarce information about it.).
After Jyuge shinji, in Kanpai nogi ritual, the priests purify participates of a column with "Ohnusa" the priest in red holds in his hands. Fortunately, those who observe the parade can also be purified!
The column departs Shimogamo shrine to Mikage shrine.
Waving good-bye to the column, we head for Demachi Yamani station to catch a train. It departs the staiton at 10:07 a.m..
10:07 a.m. Demachi Yanagi sta.
Take the Eizan line train for Yase hieizan guchi. It departs at 10:07 a.m.. Don't miss it, or you are late for Miare shinji ritual at Mikage shrine.
REPEAT DO NOT MISS THE TRAIN OF 10:07