Introduction 概説
In 2021, Ninnaji temple provides us with Aomomiji night illumination. In this post, I'll show you the way to enjoy it, 合掌。
Visit there before it gets dark to enjoy twilight and nigt.
Find tiny Omuro cherries.
We are not allowed to visit the halls in Ninnaji. We admire them from the path to Kondo in distance.
Kondo, the main hall is the oldest Sihinden and a statue of Amitabha is enshrined there.
Special Ao Momiji Goshuin Stamp is available.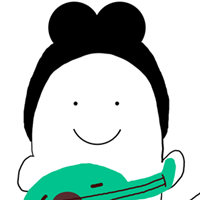 いちきしま ひめ
This site and article don't recommend outing though the state of emergency was lifted. Make your decision with extreme care.
This site cannot guarantee your safety.
The information of shrines and temples are subject to be changed.
This site is not responsible for any disadvantages you have at all.
Schedule of 2023
Dates: Fridays, Saturdays, Sundays, and National holidays between 5/26/2023 and 7/2/2023
Open hours: 19:00~21:00(Entrance opens at 18:30 and closes at 20:30)
Entrance fee: 1,000 JPY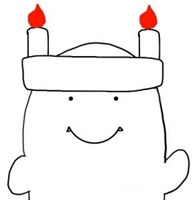 七里ヶ浜親方
Fridays, Saturdays, Sundays, and National holidays only. Not weekdays, right?
From twilight to night 夕暮れから夜に至る経緯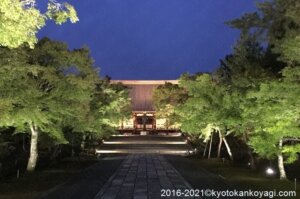 For Ao Momji night illumination, the gate is open to us at 18:00. In May, we are still in dusk.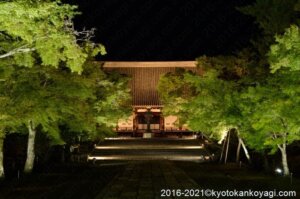 Around 20:00, we find ourselves in the darkness.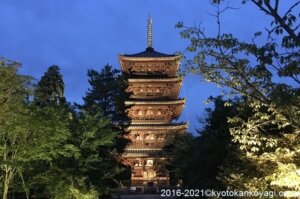 I do love the color of the sky. We can admire it only in early summer.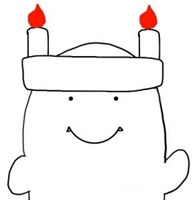 七里ヶ浜親方
The color is peculiar to the twilights from early May to Sakimatsuri of Gion Matsuri. When Atomatsuri started, the sky contains blue and red.
We have an opportunity to enjoy both of them in Ninnaji this year.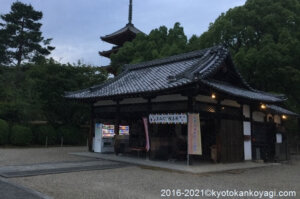 There is a place to rest. Automated vending machine and benches are available there.
Omuro Cherry 御室さくらんぼ
Ninnaji is famous for Omuro Zakura cherry blossoms for centuries. In early summer, we can admire tiny cherries on Omuro Zakura trees.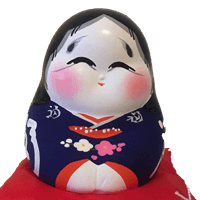 お福さん
Omuro Zakura? Check these articles. Haradanien, the Sakura Paradise, also has Omuro Zakura.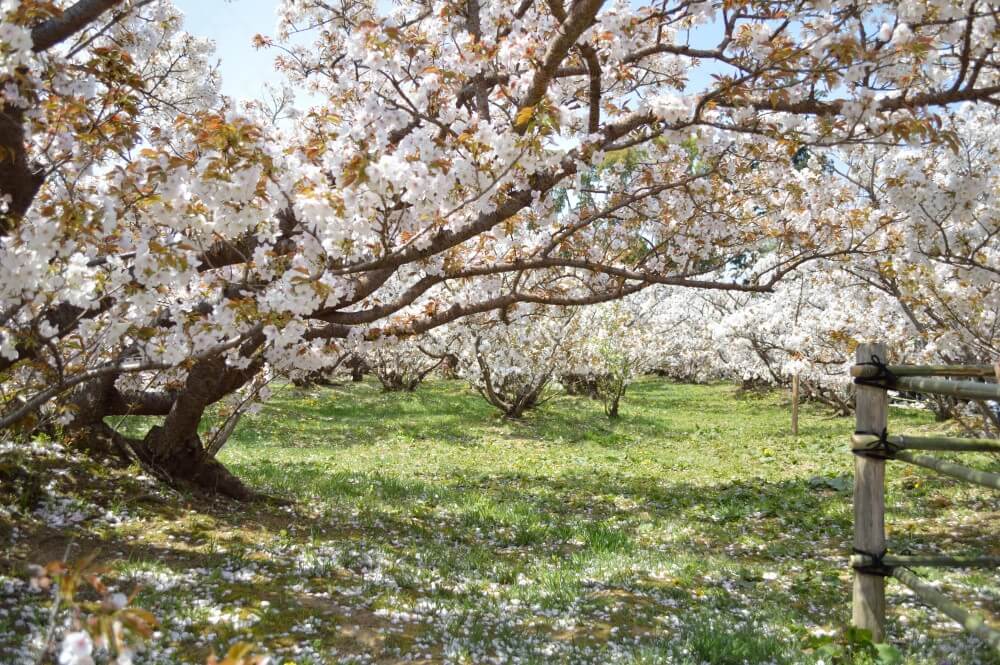 Omuro Zakura in Ninnaji temple and its forecast 2023: Full bloom on 4/3/2023 御室桜英語で説明
Generally speaking, Omuro Zakura of Ninnaji is the last-blooming Sakura in Kyoto. It is in full-bloom in mid-April usually but it might bloom about 2 weeks earlier. You can learn about the Sakura and the way to enjoy it in this article. Now we're in February. I'll start to update this article in April.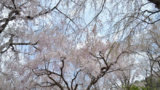 Haradanien garden 2023: Cherry blossom supreme in Kyoto
Haradanien is a private garden only open to public in spring and autumn. It is little-known place but is the most popular destination among Kyoto-enthusiasts. Sakura matsuri 2023: 25/3/2022~23/4/2023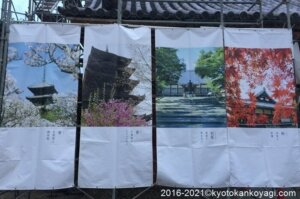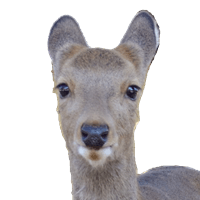 シカさん
Of course we can enjoy Omuro Zakura there. In pictrure!
Only restricted places 参拝は仁王門から金堂まで
In the night illumination, we are not allowed to visit the halls in Ninnaji. We can be in the path lead us to Kondo, the main hall.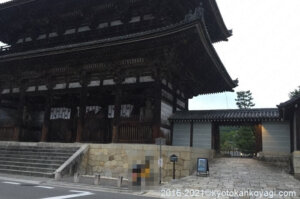 This is Nioh mon gate. We can enter the temple in the door though the gate is closed.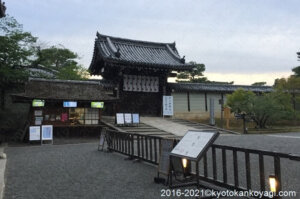 In side the gate, there is a reception place. Pay entrance fee there (1,000 yen for adult)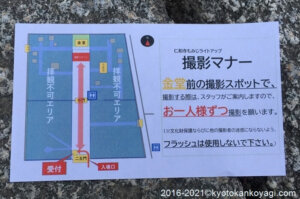 Receptionist gave us this. It shows us the path we can walk (Indicated by the red allow.)
It says when guides wait for us we can take photo of Kondo following their advice.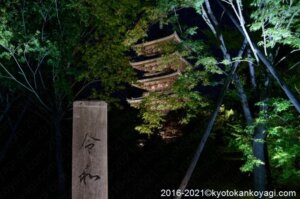 After the reception place, we walk towards Kondo catching a glimpse of the pagoda with 令和 Reiwa.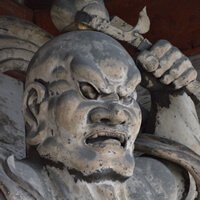 あ
Flashe photos prohibited,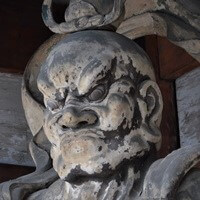 うん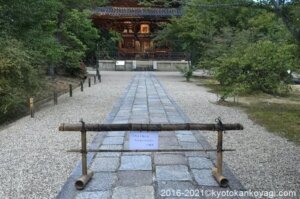 This kind of things means "DO NOT ENTER."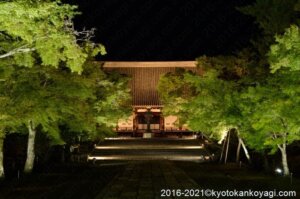 Kondo used to be a Shisinden of Imperial palace. It was constructed in 1612 and is the oldest one. Shisinden is the main hall in Imperial palace. Important ceremonies, like Sokui Rei (Enthronement of Emperor), are held there.
Now it works as the main hall of Ninnaji and a statue of Amitabha and those of its gradians are enshrined.
Special Ao Momiji Goshuin 青もみじライトアップ限定御朱印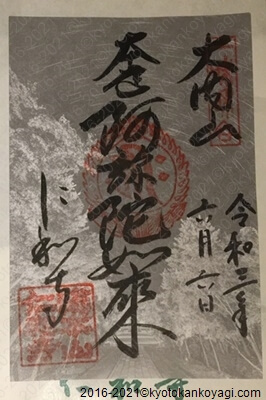 We can have it at the reception place for 500 yen.
How to get to Ninnaji temple?
Kyoto City bus: No. 10, 26, and 59: Omuro Ninnaji bus stop
Randen (Keifuku railways): Omuro Ninnnaji station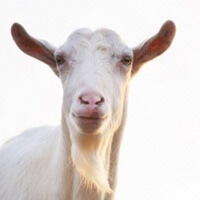 たけちよ
From Kyoto sta., No. 26 is convenient.
About Ninnaji temple