The schedule of 2023 日程
What is Sennnichi Mairi? 千日詣りとは?
Sennnichi Mairi is a way to visit Shito shrines and Buddhist temples to make our important wish come true. With strong desire, we visit a shrines or temple to pray 1,000 times.
The one Kiyomizu-dera temple offers is a special and abbreviated one: We visit the temple on a day in Obon season and our visit and pray is considered as 1,000 ones.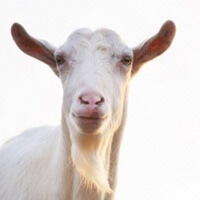 たけちよ
On 8/14, 15 and 16, special night visits are available.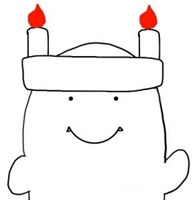 七里ヶ浜親方
The renovation? Don't you worry, finished.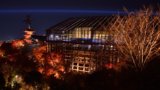 Kiyomizu-dera renovation finished in 2020
Kiyomizudera consists of about 15 buildings and some of them were renovated in the name of "Heisei no Daikaisyu 2008-2020(Reconstruction in Heisei period). "
Goriyaku of Sennichi Mairi 千日詣りのご利益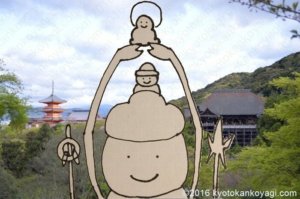 Kiyomizu dera enshrinesJuichimen Senju Kannon 「十一面千手観音菩薩像」. He has Goriyaku (good fortune)  for our health, love affair, and easy delivery.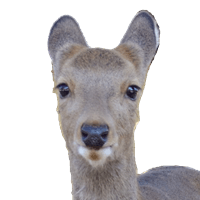 シカさん
Lots of guide books don't refer to easy delivery. But Kiyomizu-dera is known as Goriyaku for that. For example, in Kiyomizu-dera Sankei Mandara (In Japanese) , we can find a married couple pray on the stage.
In Nainaijin 内々陣から参拝可能
In the Senninchi Mairi of Kiyomizu-dera, we can be in the Nainaijin. Nainaijin is the most important place in Shinto shrines and Buddhist temples because Deities are enshrined there. Usually, especially in Shinto shrine, Nainaijin is so sacred that we cannot be there.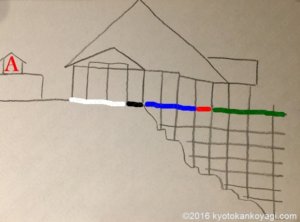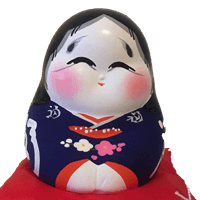 お福さん
Take a look at this. The white line is a floor of the Nainaijin. The black one is a floor of Naijin. They consists of Seido. The blue one is a floor of Raido. We can be Raido but cannot be Seido because of its sacredness.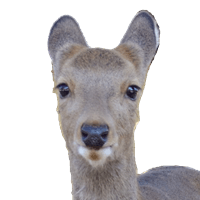 シカさん
The led line is a corridor and the green one is the stage. A is Jishu shrine.
The Deities of Kiyomizu-dera 須弥壇上の御本尊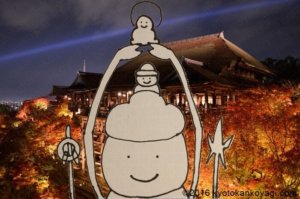 Kiyomizu-dera enshrines Juichimen Senju Kannon 「十一面千手観音菩薩像」as Gohonzon, the most important Deity. It also enshrines Shoteki Bishamonten 「勝敵毘沙門天像」and Gunsyo Jizo Bosatsu 「勝軍地蔵菩薩像」.
There is a story on these Deities. Sakanoue no Tamuramaro, the founder of Kiyomizu-dera, was in the middle of the toughest battle against Ezo, the ancient ethnic group in the Tohoku region. Tamuramaro asked help for Juichimen Senju Kannon of Kiyomizu-dera. A monk Shoteki Bishamonten and Gunsyo Jizo Bosatsu on behalf of him.
In Nainaijin, there are three Zushi ( housing looks Mikoshi) . They are enshrined there.
In front of the one located in center, we can find replica of the statue of Juichimen Senju Kannon. The authentic one is in the Zushi.
There are no statues of the other Deities. Don't worry. In the beam of the Raido, there are three disks called Mishotai. We can see the three Deities on them.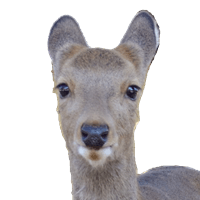 シカさん
Between Zushis, there are lots of the statues. They are Niju Hachibushu gardians.
The way of Sennichi Mairi 千日詣りの仕方
Usually, we enter Nainaijin with shoes off. Behind Zushi, we offer Tomyo Candle for the Deities. After that, we pray in front of them.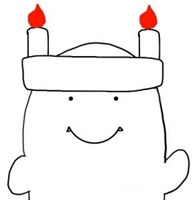 七里ヶ浜親方
At night, Kiyojmizu-dera is so amazing. Enjoy it with Aomomiji.
About Kiyomizu-dera 清水寺基本情報
Access to Kiyomizu-dera 清水寺へのアクセス
The nearest bus stop is Kiyomizu Michi bus stop. It takes about 20 minutes to Kiyomizu-dera.