Overview
Gohonzon is a Deity a Buddhist temple enshrines. It is the most important Deity for the temple. Usually, almost all Buddhist temple have a statue of Gohonzon and we can admire it.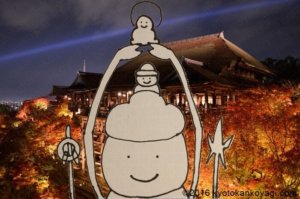 The Gohonzon of Kiyomizu-dera temple is "Juichimen Senju Kannon," the Kannon with 11 faces and 1,000 hands. To our regret, we cannot admire it because the statue of Gohonzon is "Hibutsu." Hibutsu is usually enclosed in a container called Zushi.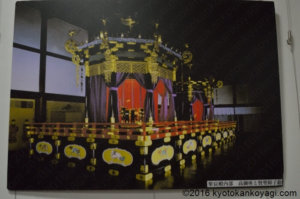 In Kiyomizudera, the Gohonzon is in a big Zushi looks like a Takamikura in Sokui Seiden no Gi of the Emperor.(Not exactly the same. Zushi only resembles Takamikura.)
The Zushi opens every 33 years or other special occasions. The last time we saw Gohonzon is 2008 and the next time is 2041. As an exception, It opened in 2009 to commemorate Emperor Hanayama.
All we can do now is to admire the Gohonzon through "Omaedachi" or "Mishotai."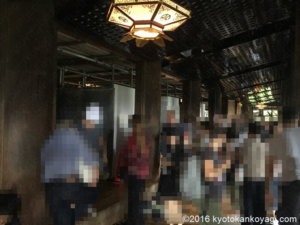 Omaedachi is a replica of Gohonzon. Mishotai is a disk which has a small figurine of Buddhist Deity. We can find them in the main hall. The photo shows us the entrance of it. I cannot show you how the main hall looks like because it is banned to take photo there.
The Gohonzon is about 69″ tall. It is made of Hinoki sypress. It was built in "Yosegizukuri" technique. In the technique, builders make one statue with many parts. Before it was invented, one builder made a statue with one piece of wood. With the introduction of it, people made statues easier and faster than before.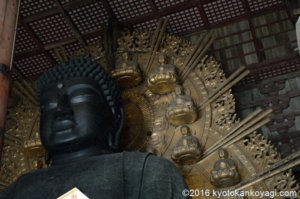 The eyes of Gohonzon are balls of crystal. It also has crystal "Bykugo." Byakugo is a something like the third eye in the forehead some Buddhist statue has. (Make sure of it in the photo above. It is a statue in Todaiji temple in Nara.)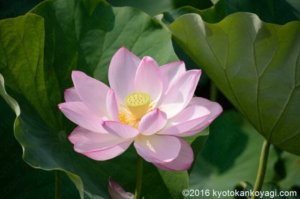 The Gohonzon stands on a lotus and it is about 104″ tall on it.
Kiyomizudera was founded in the 8th century and it has Kannon statues since then but it was caught by fire at least 10 times and they also burnt out. The Gohonzon today was built in the 13 or 14th period.
Omaedachi was built in the same time the main hall was reconstructed in the 17the century due to the donation of Tokugawa Iemitsu, the 3rd Shogun of Tokugawa Shogunate and a grand son of Tokugwa Ieyasu.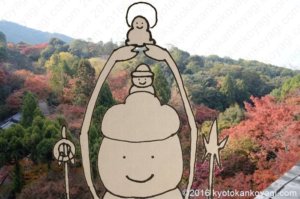 From the stage of Kiyomizudera, we have a good view of a valley called Kinunkei. It is considered as the Fudaraku Jodo paradise where Kannon lives.
What is Juichimen Senju Kannon? 十一面千手観音とは?
Juichimen Senju Kannon 観音像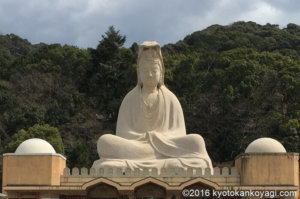 Kannon is a name of a Deity. It is  abbreviated "Kanzeon Bosatsu「観世音菩薩」," or "Kanjizai Bosatsu「観自在菩薩」" in Japanese. She is a Deity of Mercy and compassion. (In Japan, most of all people think Kannon  is a female Deity)
Kannon is a "Bosatsu." Bosatsu means a person who seeks the enlightenment. It is based on Siddhartha Gautama as a crown prince. So, a statue of Bosatsu wears necklace and bracelet.
It is believed that she appears in 33 forms to save anyone in suffer. This is the reason the Zushi opens in every 33 years.
Juichimen Senju Kannon 十一面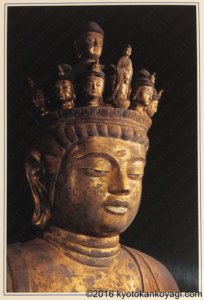 We have many kinds of Kannon. The basic Kannon is called "Sho Kannon 「聖観音」. When Vajrayana Buddhism introduced in Japan in the 9th century, it brought them to Henge Kannon 「変化観音」. Henge Kannon means "Changeable Kannon."
Juichimen Kannon is a kind of Henge Kannon and has 11 small heads on her head: The front, the left, and the right sides have 3 faces each. In addition to them, it has one face on the top of the head and the back of it.
The 3 faces in the front are called "Bosatsu men 「菩薩面」" and stand for the compassion of Kannon.
The 3 faces in the left side are called "Shin Nun men 「瞋怒面」." They keep their eyes on us.
The 3 faces in the right side are called "Kuge Joshutsu men 「狗牙上出面」." They encourages us though they look like as though they were in anger.
The face on the back of the head is called "Daishomen「大笑面」." It laugh out evilness.
The face on the top of the head is called "Butsumen「仏面」." It is the highest-ranked Buddha and means "the person who appears to us as the truth."
Juichimen Kannnon has many faces as described but we can see Butsumen only in that of Kiyomizudera because it wears a crown.
Juichimen Senju Kannon 千手観音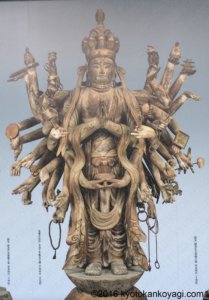 The word "Senju" is abbreviated "Senju Sengan," which means "with 1,000 eyes and hands."
So, Senju Kannon exactly means "Kannon with 1,000 eyes and hands." Senju Kannon has 1,000 arms and each palms has 1,000 eyes. She saves people in suffer with them.
In ancient times, statues of Senju Kannon has 1,000 arms actually. Around 8th century, they are began to be made with 42 arms. People believed that she save 25 worlds with 1 hand. (Buddhism has many world.) The picture above shows us a typical statue of Senju Kannon.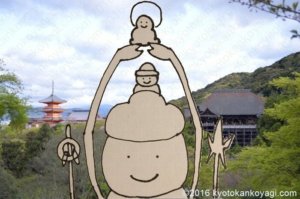 The peculiar thing about the Gohonzon of Kiyomizudera is that she has a small statue overhead with her arms described in the picture.
Now the stage is under construction.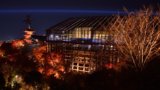 Kiyomizu-dera renovation finished in 2020
Kiyomizudera consists of about 15 buildings and some of them were renovated in the name of "Heisei no Daikaisyu 2008-2020(Reconstruction in Heisei period). "
Good fortunes ご利益
Each Buddhist Deity has "Goriyaku," the good fortunes it gives us.
The Gohonzon of Kiyomizudera gives us good health, easy delivery and make our hope come true.
About Kiyomizu-dera
How to get to Kiyomizu-dera temple at fall?
Fall is high season. Many people migrated to Kyoto to admire autumn leaves around the world. Usually, we head for Kiyomizu michi or Gojozaka bus stops to get to Kiyomizu-dera.
In high season, we head for Shijo Kawaramachi or Gion bus stops instead. We also take train to get to Kiyomizu-dera temple. Keihan Gion shijo station, Kiyomizu Gojo station, and Hankyu Kawaramachi station.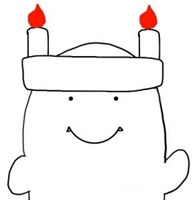 ヒヒヒ
Kiyomizu michi and Gojozaka bus stops are not available! Crowded!
More info.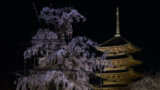 404 NOT FOUND | ヤギの京都観光案内/KYOTO GOAT BLOG
ヤギが皆様の知らない京都をご案内/ THE MOST FASCINATING KYOTO, EVAAH!