THE GIST OF THIS ARTICLE
Page 2 Four kinds of Niwa, Buddhism found in The Rock Garden, Conclusion
The following is the contents of this page.
Four kinds of Niwa
Ohba, Shima, Tsubo, and Yado
As described in the latest chapter, Niwa was a place where rituals were to be held in ancient times. As time went on, it gradually was developed into four places in terms of usage: Ohba, Shima, Tsubo, and Yado.
Dantei of Shishinden
Ohba plays the role of the authentic Niwa as described before. It usually filled with gravels and we cannot find anything else generally because it is used for many activities.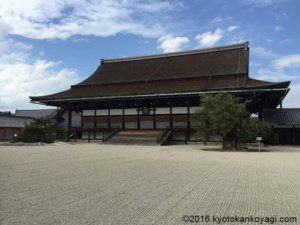 The building in the photo is Shisinden of Kyoto Imperial palace. It has a graveled space in front of them is Ohoba callde Dantei (南庭) and there are no objects except two trees.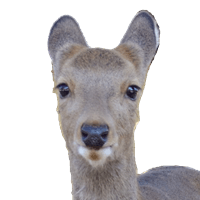 シカさん
These two trees belong to Shishinden. They stand for eternity and fragility.
Shisinden is the most important hall among Kyoto Imperial palace complex and a place where sacred ceremonies are to be held. The most important one is the enthronement ceremony of the Emperor.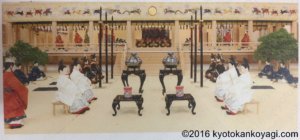 The photo shows us the ancient enthronement ceremony. In front of Shishinden, there are Hokos (the objects look like spears) and tables for it. Ohba has no objects usually because it has to prepare for many kind of ceremonies: The ways of its usages depend on the ceremonies take place there.
Buddhism found in The Rock Garden
Why the rocks can be located in Ohba?
The Rock Garden is located at the Ohba of Hojo building of Ryoanji temple though it ought not to have objects for many activities to be held.
Around the 12th century, people started to held rituals in a building adjacent to Ohba. Due to this, Ohba started to lose its authentic role gradually but it still was a place for activities and constructed in a strict regulation: No objects were allowed there.
It is highly possible that The Rock Garden we know today was constructed in the 17th century. The regulation was in effect and it was prohibited to put something in Ohba.
No one can tell the reason why Ryoanji had such a privilege. I suppose that the Rock Garden is something important in Zen.
Let us inspect it in the following chapters.
What is Karesansui?
We have many types of gardens and "The Rock Garden" is one of Karesansui gardens.
Kare Sansui (枯山水) literary means "withered nature." Kare(枯) means "withered" and Sansui (山水) means "Nature," i.e., Kare Sansui (garden) stands for Nature taking no advantage of water.
In other words, we can find Nature in the Ohba of Ryoanji, a.k.a. The Rock Garden.
Zen and nature
Daisetz Suzuki puts it: "Zen purposes to respect Nature, to love Nature, to live its own life."  His idea is that Nature is equivalent to a state of being free from anything (this is one of the states Zen aims at) .
In addition to it, Nature is very close and equal to us. Buddhism has a saying: 一切衆生悉有仏性 (Issay Syujo Sitsu Bussho). It means that anyone/anything could be a Buddha (enlightened person/thing).  For example, we could be Buddha, our friends could be Buddha, our enemies could be Buddha, a coffee cup could be a Buddha, mountains could be Buddha, and so on. ANYTHING. I suppose this idea may sound strange but it is quite easy to understand it for Japanese people.
That is to say, Nature is our close companion and stands for one of aims of Zen. The importance allowed the rocks in the Ohoba.
The syncretism found in the Rock Garden
In terms of Shinto or more primitive belief of our ancestors, since pre-historic times, Japanese people showed respect and gratitude for nature where they found Kami(s). This attitude is still alive.
On the other hand, The Rock Garden represents nature which has a close relationship to the aim of Zen.
Nature is important for both Shinto and Zen Buddhism. And it it found both of them at once in the Rock garden.
Now, let us be in the garden anew. 合掌