#4 Konkai Komyoji temple 金戒光明寺
The schedule of 2021
Dates: Nov. 12~  Dec. 5
Open hours 17:30~20:30 (Be there by 20:00)
Entrance fee: 1,000 JPY
Konkai Komyoji provides us with "Premium visit plan." Check the official site (Japanese only),
Overview
Konkai Komyoji is one of the most overlooked autumn leaves spots in Kyoto. Only so-called Kyoto-enthusiasts pay visit there. It has so stunning night illumination in fall.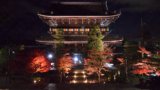 Konkai komyoji temple: the overlooked autumn leaves in Kyoto
Konkai Komyoji temple is not popular site to visit but we can enjoy one of the most beautiful autumn leaves and illumination in Kyoto.
Afro Buddha waits for you.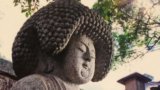 Afro Buddha in Kyoto アフロ大仏英語で説明
The real name of "Afro Buddha" is "Goko Shii Amidabutsu.(五劫思惟阿弥陀仏)" It means that a Buddha meditates forever. In this artile, you can learn the reason of its hair style and its features, souvenirs and so on.
Cute duckies, too!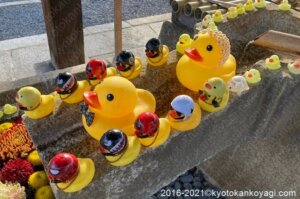 The night illumination of Konkai Komyoji temple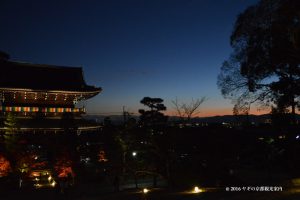 Konkai Komyoji stands on a hill. We have a good view of Kyoto city. At twilight in fall, see the sun setting.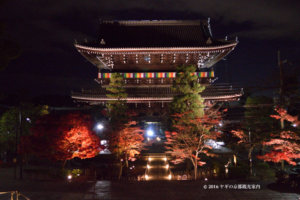 The Sanmon gate is illuminated. There are the maple trees in bright red in front of it.
The best Sanmon illuminated.
Konkai Komyoji has a pond and of course Mizukagami. It is as amazing as that of Toji.
About Konkai Komyoji
How to get to Konkai Komyoji temple?
Kyoto city bus
No.2、93、203、204 Okazeki Jinjya mae bus stop
#5 Kiano tenmangu shrine 北野天満宮
The schedule of 2021
Dates: Nov. 13~  Dec. 5
Open hours Twilight ~20:00 (Be there by 19:30)
Entrance fee: 1,000 JPY
Overview
Overview
Kitano tenmangu enshrines Sugawarano Michizane, the most learned person in Japanese history and popular among students. It has one of the most beautiful autumn leaves. It is one of the most underrated places and is always not crowded.
The night illumination of Kitano tenmangu shrine
Kitano tenmangu started night illumination a couple of years ago. Maple leaves are in extraordinary red and vermilion.
About Kitano Tenmangu shrine
How to get to Kitano Tenmangu shrine?
Kyoto City Bus
No.50、101、102、203 Kitano tenmangu mae bus stop.
Randen (Keifuku rail way) Kitano Hakubaico station.
#6 Kiyomizu-dera temple 清水寺
The schedule of 2021
Dates: Nov. 18~  Nov. 30
Open hours 18:00~21:30 (Be there by 21:00)
Entrance fee: 400 JPY
Overview
Overview
The most popular destination for tourists. The roof of the main hall is now under renovation and covered in a cage. It will end in 2020.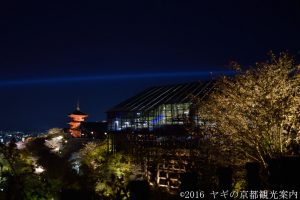 This is the Kiyomizu-dera in this spring. In this fall, it would looks like this.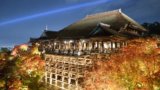 KIYOMIZU-DERA temple tour: its renovation, stage, and Jisyu shrine in Kyoto!
A goat Kyotoite shows you Kiyomizu temple; Its renovation of roof, stage, illumination, Jisyu shrine, access, open hours, and other things to see.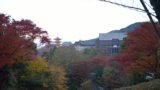 KIYOMIZU-DERA in Autumn Leaves and night illumination 2019
Kiyomizu-dera temple has the most amazing autumn leaves and night illumination in Kyoto. You can learn the best way to enjoy them in this article with a help of a goat Kyotoite!
The night illumination of Kiyomizu-dera temple
The main hall before the renovation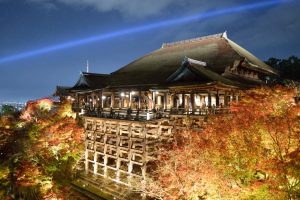 So amazing, baah!
The main hall under renovation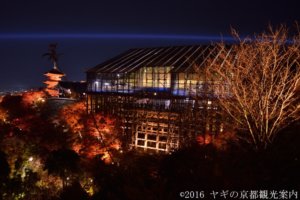 The cage covers the main hall like this.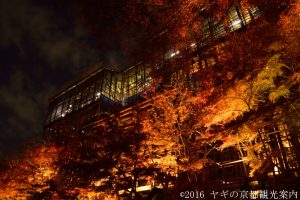 Look up the stage. A few people try to see it from the foot of it.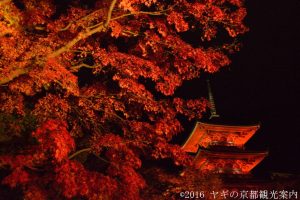 Kiyomizu-dera temple is illuminated in bright red. Enjoy the pagoda with maple leaves.
From the west gate (the right gate in the 2nd photo), have a good view.
About Kiyomizu-dera temple
How to get to Kiyomizu-dera temple?
Fall is high season. Many people migrated to Kyoto to admire autumn leaves around the world. Usually, we head for Kiyomizu michi or Gojozaka bus stops to get to Kiyomizu-dera.
In high season, we head for Shijo Kawaramachi or Gion bus stops instead. We also take train to get to Kiyomizu-dera temple. Keihan Gion shijo station, Kiyomizu Gojo station, and Hankyu Kawaramachi station.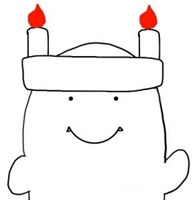 ヒヒヒ
Kiyomizu michi and Gojozaka bus stops are not available! Crowded!