Overview
Sping in Japan always reminds us of cherry blossom Sakura but we enjoy plum blossom/Ume before it blooms.
Kitano Tenmangu shrine is one of the most famous place to admire Ume in Kyoto.
Kitano Tenmangu and its Baien garden have 50 kinds, 1500 plum trees.
Baien garden is open to public in February and March. We cannot tell exact date because the shrine opens the garden depending on bloom of Ume. In 2019, it opens on Jan. 31.
Night illumination in Baien garden is held on week-ends (

FRIDAYS, SATURDAYS, and SUNDAYS

) from February 28 to March 22.
Night illumination is canceled due to widespread coronavirus.
Forecast 2023 梅苑の公開並びにライトアップの日程
Baien garden schedule 2023  梅苑公開スケジュール
Baien garden: 2/2/2023~Late March 9:00~16:00(Entrance closed at 15:40)
Night Ilumination: 2/24/2023~3/19/2023 Twilight~20:00(Entrance closed at19:40)

Only Friday, Saturday and Sunday.

Entrance fee: Adult(Over 13 years old)1,200 yen  children 600 yen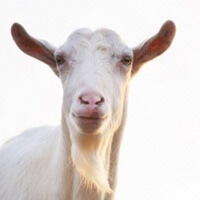 たけちよ
Night illumination is available only Friday, Saturday and Sunday.
Blooms in 2023 見頃予想、並びに開花状況
3/3 ヤギ撮影隊ライトアップ緊急入魂乱入済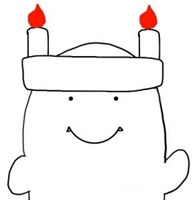 七里ヶ浜親方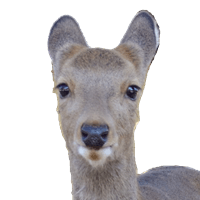 シカさん
The garden is illuminated with candles and in About 70% bloom. Some are not in bloom. I believe we could enjoy Migoro in next week.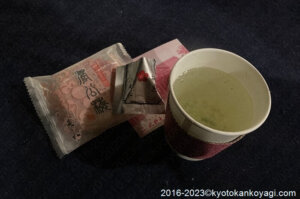 Enjyo the crackers and the tea.
2/25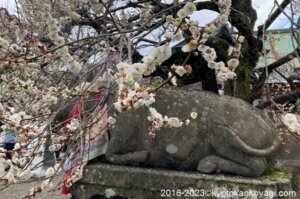 About 70% bloom. Now Kitano Tenmangu shrine is in Migoro. Gempei Sakiwakes started to bloom. Tobiumes and Omoinomamas are buds.
2月19日
About 40% bloom. The early bloomers and Robais are still in Migoro. The shine would be in Migoro in next week.
2/14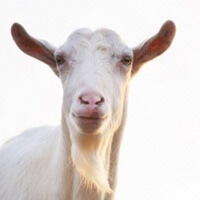 たけちよ
At Sanjo Ohashi bridge, Kawazu Zakuras started to bloom. We can enjoy Ume and Sakura at the same time.
2/11
About 40% bloom. The early bloomers and Robais are in Migoro.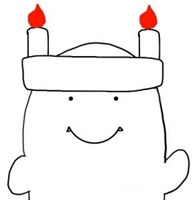 七里ヶ浜親方
Baien garden is illuminated with candles!
2/4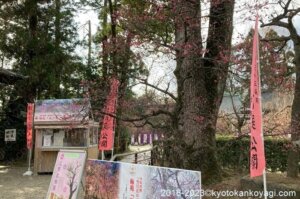 About 1 % of the trees in Baien garden have blossoms. At the entrance, the tree is in Migoro.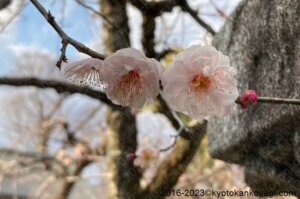 At Oimatsu sha, we can find blossoms are in bloom.
1/31
On pruning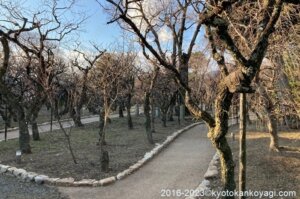 The plums in Baien garden have just started to bloom.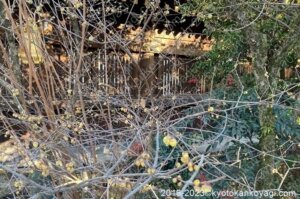 Some Robai blossoms give out the sweet fragrance.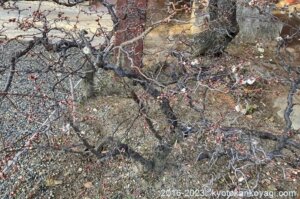 Unryubais are not in bloom.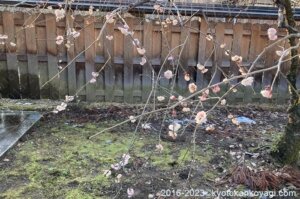 At Oimatsu sha, located near Sankomon gate, the plums are in bloom.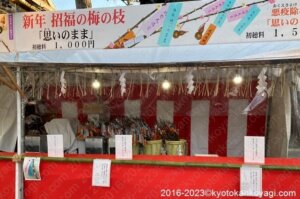 Omoino mama branchs are still available.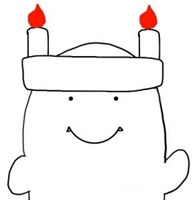 七里ヶ浜親方
Enjoy Hana Temizu/ Chozu with Ushi-san.
1/22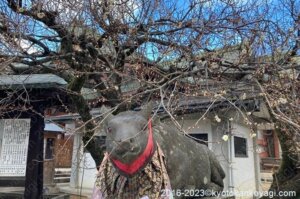 Over Usshi-san (うしさん), few white ones Bloom.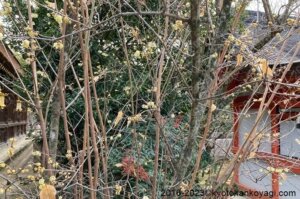 Robai plums give out the sweet fragrance.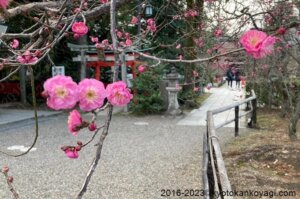 And other plums bloom as expected.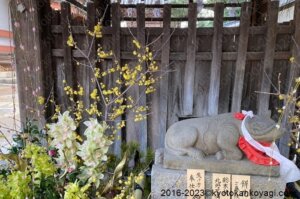 Chozu is decorated with Roabai and other flowers as usual.
1/4
Near Sanko Mon gate, we can find some flowers.
2020
Overview
Usually, some early-blooming plum blossoms in bloom around the last week of Feb. or the first week of Mar.
The week end of the first week of MARCH is the best time in every year.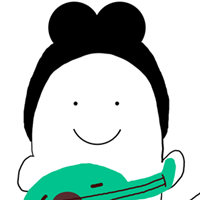 いちきしま ひめ
This article is for your reference. We cannot foresee the best time to admire plum blossoms exactly. We are not responsible any disadvantage you have.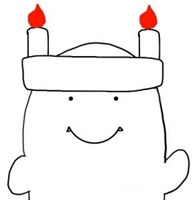 七里ヶ浜親方
On Feb 9, Early-blooming ones are in full bloom. This year, the entrcance fee is 1,000 JPY.
22/2/2020
Most of all the plum blossoms in Baien garden are in 80 percent bloom. We have the first illumination on Feb 28 and it think it is the best time to visit.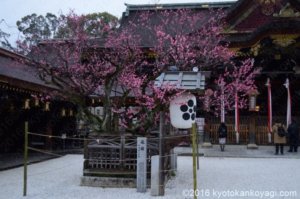 Plum blossom and Japan
As you Know, Sakura is the most famous flower in spring time in Japan. On the other hand, we admire Ume/plum blossom before Sakura/cherry blossom. Ume is not indigenous to Japan. It was brought to our country from China in Nara period (710 – 794). In Manyoshu, the oldest Waka compilation, has many poem on Ume. In that period, the word "flower" was equivalent to "Ume."
Kitano Tenmangu shrine and plum blossom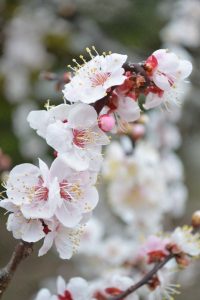 Kitano Tenmangu enshrines Sugawara no Michizane. He was a court noble in Heian period. He was so prosperous that his political rival Fujiwara no Tokihira ousted him to Dazaifu (Fukuoka prefecture) by false accusation.
Michizane had cherry blossom, pine, and plum trees in the garden of his residence. On the day he left Kyoto to Dazaifu, he missed these trees. He loved the blossoms of the tree especially and he composed a poem: "東風吹かば にほひをこせよ 梅花 主なしとて 春を忘るな" It means " O plum blossoms! I'm leaving you but spring shall be with you! To me, bring the fragrance of you on the wind to the west (Dazaifu is located west to Kyoto)!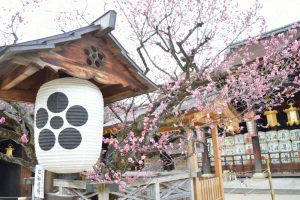 After he had gone, the cherry tree withered. The pine tree tried to follow him but failed. Only the blossoms of the plum tree flew away to Dazaihu to see him. We can find the blossm tree in front of the main hall of Kitano tenmangu shrine today. The blossoms flew to Dazaifu gave birth to Goshinboku tree in Dazaifu Tenmangu shrine.
Due to this story, there are about 1500 plum trees in Kitano Tenmangu shrine and we can see Baimon (crest of Ume) crest of the shrine anywhere in the shrine.
The plum blossoms in Kitano Tenmangu shrine
Beni Wakon Bai 紅和魂梅
The Goshinboku tree of Kitano Tenmangu shrine. Goshinboku is a tree Shinto Deity descends to. It is believed that the blossoms of it flew away to Michizane.
As you like おもいのまま
In one branch, there are pink and white flowers bloom at the same time.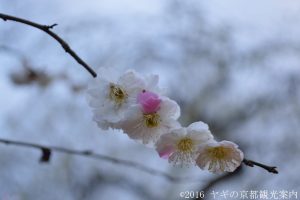 Some flowers have both colors on one flower.
Unryubai 雲龍梅
Behind the main hall, there is a sub-shrine called Oimatsu sha. In front of it, there is a Unryu bai trees. Its zigzag branches reminds us of dragon. Dragon is a Deity of water in Japan. Unryu means "Dragon in crowd" and bai means "plum blossom."
Kankobai 寒紅梅
In front of the ox, you'll find them.
Tsukino katsura 月の桂
The most popular Ume in Kitano Tenmangu shrine. The first photo is Tsukuno Katsura and the other is Hakubai (white Ume). See the difference.
Kokubai 黒梅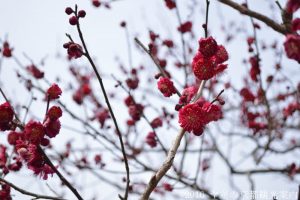 It blooms in bright red.
Places to enjoy plum blossoms
Around the main hall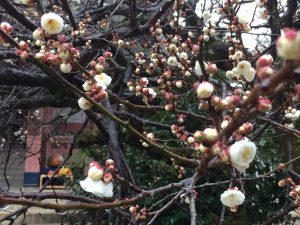 Unryubai buds. Plum blossom has tiny buds usually.
Kankobai in snow.  Plum blossoms in snow are so amazing. Especially red ones. I suppose we don't expect snow in this winter.
Ume may look like all the same but they are different in color and the ways they bloom.
Baien garden
Kitano Tenmangu has a huge Baien garden. It is not open to public. We can pay a visit there only in February and March. In 2019, it will open in Feb. 8th. Every year, around the 2nd week of March is the best time to visit.
Entrance fee is 700 yen.  In the tea house in the garden, Ume tea and Senbei are served. The entrance fee includes the bill of them.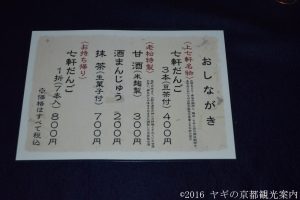 If you'd like, you can enjoy other foods and drinks.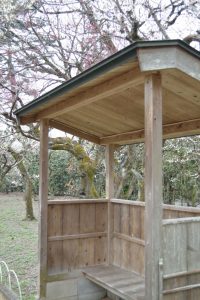 There are benches to admire the blossoms in the garden.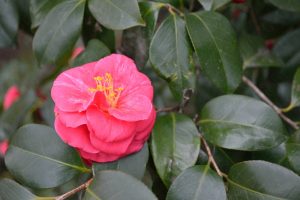 You also enjoy Tsubaki, the Japanese camellia.
In the area of Kitano Tenmangu shrine, there is debris of Odoi. Odoi was a kind of wall resembled river bank. It surrounded ancient Kyoto city.  There is a stream and many plum trees are planted along it.
The pink line indicates Baien.
Date Feb 8th~late March
Open hours:10 a.m.~16 p.m.
It is different from the open hour of Kitano Tenmangu shrine

Entrance fee Adult(Over 13 years old: 700 yen Child: 350 yen
Website:Kitano Tenmangu official (English)
Night illuminatiohn of Baien 梅苑ライトアップ
In 2018
Kitano Tenmangu has night illumination of plum blossoms. Kitano Tenmangu is the only place to admire the illumination of candles.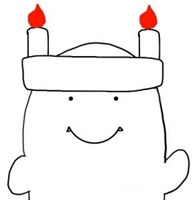 ヒヒヒ
We cannot expect night illumination with candles any other places!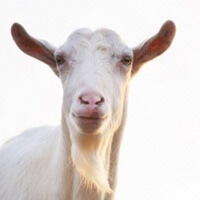 たけちよ
Wadaiko performance
Today (March 2nd), Kitano Tenjin Taikokai dedicated their Japanese traditional drum performance to the Deity of Kitano Tenmangu shrine. Enjoy it!
Chogoro mochi 長五郎餅
Near the East gate of Kitano Tenmangu shrine, there is a small tea house of Chogoro mochi. By March 25th, it opens on every weekend. Moch is rice cake. This Chogoro mochi was served at Kitano Daisanoe in 1587. It is a legendary tea party held by Toyotomi Hedeyoshi at Kitano Tenmangu shrine. With Macha, 580 yen. The tea house is so warm thanks to Hibachi (the second photo). The charcoal gives out heat.
長五郎餅本舗|京の都を楽しまれる皆様へくつろぎのひと時を
長五郎餅は太閤秀吉が開いた北野大茶会の際用いられたという由緒正しきお餅です。薄い餅皮に餡を包んだ上品な餅菓子です。店内でお茶と一緒にお召し上がり頂けます。また、発送可能な商品のご紹介もございます。是非、お試しくださいませ。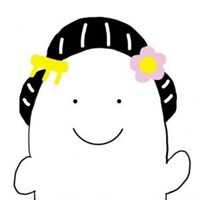 やぎももさん
Sorry, Japanese language only!
2019 Japanese Plums in Kitano tenmangu shrine
February 9th
Unryubai in front of Oimatsu sha and Shosui bai over the ox (ウッシーくん) bloom well.
How to get to Kitano Tenmangu shrine?

Kyoto city bus: Kitano Tenmangu mae bus stop.
Randen: Kitano Hakubaicho station
About Kitano Tenmangu shrine