Introduction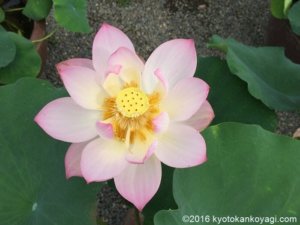 I show my deepest condolences to the victims of COVID-19 and sincerely hope those who suffers find themselves in peace. 合掌。
In this post, I'll show you what is going on here in Kyoto. The original one, written in Japanese, is posted in last March. Since then, I have revised it for nearly a year. It is a long article and I can't translate it right now. So, I will do that in anti-chronicle order gradually.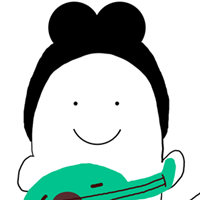 いちきしま ひめ
This site and article don't recommend outing though the state of emergency was lifted. Make your decision with extreme care.
This site cannot guarantee your safety.
The information of shrines and temples are subject to be changed.
This site is not responsible for any disadvantages you have at all.
January 2021 The latest
16th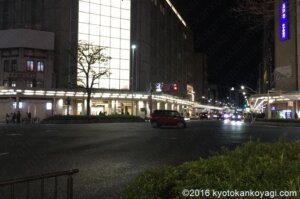 On 8 Jan., the 2nd state of emergency went into effect in Tokyo, Kanagawa, Saitama, and Chiba. 6 days later, it expanded to Kyoto and other 6 prefectures.
Today, Kyoto saw the first weekend under it. The photo shows us Shijo Kawaramachi, the most crowded place in Kyoto. The number of people decreased about 50% compared with usual weekends.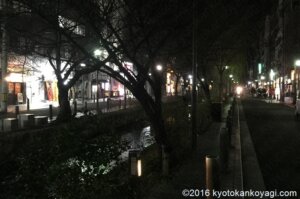 This is Kiyamach street between Shijo and Sanjo street. It is a downtown and we can find lots of restaurants and bars. There used to be lots of people down there.
At Nishiki Tenmangu shrine, there is a Nade Ushi ox. We can usually touch it to have Goriyaku (Kind of good fortune) but the shrine asks us not to do. The small card says, "Touch me in your heart."
Shinto shrines and Buddhist temple don't provide us with Chozu (Place to wash our hands) and Misuzu (Bells rung before praying) these days. Fortunately, we can ring the Misuzu at Nishiki Tenmangu shrine. Don't worry. We can use hand sanitizer spray there.
12th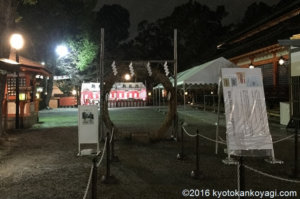 Chinowa appears again at Yasaka shrine.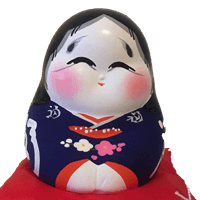 お福さん
Do you want to know what is Chinowa? Check the links below.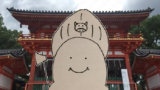 Gozu Tenno and Yasaka shrine: The Deity is still alive in the fear of COVID-19 牛頭天王英語で説明
Gozu Tenno is a Deity enshrined in Gion sha, the former Yasaka shrine. Gion matsuri is started oh his story and its still alive in the fear of COVID-19.
"Chinowa kuguri" at Yasaka shrine 2023 茅の輪くぐり英語で説明
Chinowa is a big wreath. A story about Somin Shorai says that the Deity save us from malady with it. We always find it in June and July but we also find it in March to prepare for coronavirus.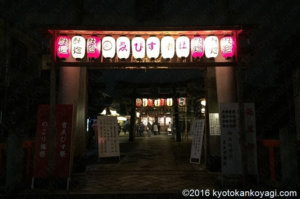 Today is the last day of Toka Ebisu. There were less people than usual year.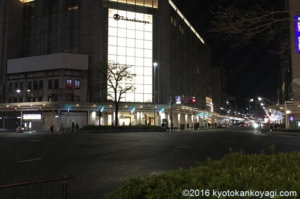 We still have less visitors. The photo was taken around 19:30. I think most of them are commuters, not tourist.
9th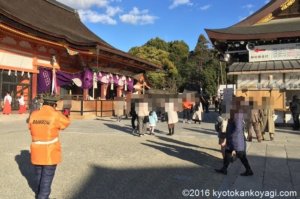 Ebessan festival was celebrated in Yasaka shrine. Usual year, it is crowded lots of people but 2021 is like this.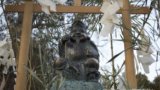 Gion Ebessan/Ebisu Fesitival 2023 at Yasaka shrine in Kyoto: 祇園えべっさん英語で説明
In 2023, Gion Ebessan/Ebisu festival is to be held at Yasaka shrine. With lots of photos and video, you can learn about the festival like Ebessan boat and Seven Deities/Gods of fortune, etc.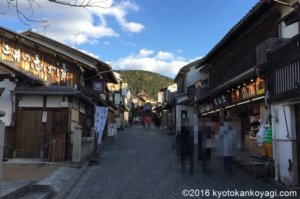 The 2nd state of emergency was declared yesterday. Kiyomizu-zaka has nearly no visitors though it is in effect in Tokyo and 3 prefectures excluding Kyoto.
1~3rd (Sanganichi)
謹んで新年を賀し、皆さまのご健勝を祈念申しあげます。
Welcome 2021! I hope you, your family and friends are in peace.
Japanese people visit Shinto shrines and Buddhist temples on the 1st day of a year. It is called Hatsumode. 2021 saw less Hatsumode visitors due to COVID-19. They decreased about 50% compared with usual year.
On the new year's eve, we had snow. I visited Kinkakuji, Ginkakuji, and Ryoanji. To my surprise, I saw tourists.
January and February have less visitors than other months. The government is declaring the 2nd state of emergency. I can't expect how does it effect the number of visitors.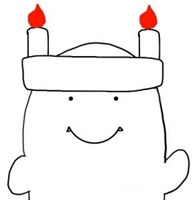 七里ヶ浜親方
Every year, there are lots of visitors in Sanganici, Ebessan festival, and Toshiya archery. The other days of Jan. is not crowded.
Buy this year, the sate of emergency will be declared in couples of days later. I can't predict what will happen.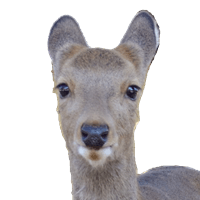 シカさん
Yasaka shrine is the best place for Hasumode. Check the links below.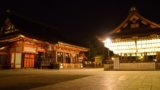 Hatsumode in Kyoto 2023: Yasaka shrine provides you with extreme blessings!
Yasaka shrine Hatsumode 2023 guide: Let us make Hatsumode (初詣) to Yasaka shrine (八坂神社) which which gives you an extraordinary blessings to you.